Tumble Dryer Settings & Features Explained
What's the difference between a vented, condenser, compact and heat pump dryer?
What will dry in the best way? Which will use the least energy?
Which settings should be used on the dryer?
All questions which we will try to answer. In the main, we select an appliance where we have no idea of what it's really capable of, with a variety of different settings and we certainly don't use it to its full potential. We've put together a little Jargon-buster for you to understand your appliance better.
Firstly, think about where your tumble dryer is going to sit. It doesn't have to be in the kitchen, it could live in the garage or a spare room even.
There are three types of tumble dryer to choose from:
• A freestanding machine offers more flexibility if you want the option to move it from one location to another. Standard dimensions should fit under most kitchen worktops at about H85 x W60 x D60cm.
• Integrated tumble dryers, which are designed to be installed within a kitchen unit, can be pricier and slightly smaller than freestanding machines, with dimensions of around H85 x W60 x D53cm.
• Semi-integrated machines can, also, cost more. The control panel is visible, while the dryer drum is hidden behind a door. You'll need a door panel from your kitchen supplier to match your kitchen units.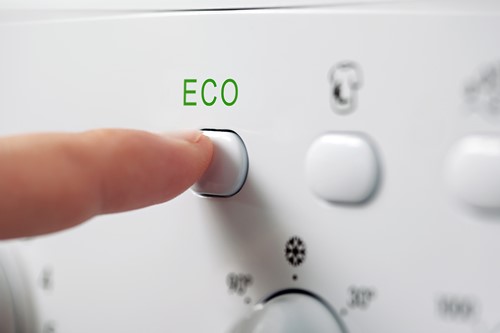 The different types of Tumble Dryers:
Vented –Vented tumble dryers work by expelling warm, damp air through a hose and out of an open window or a vent in an external wall. They are generally more affordable than condenser or heat pump models. Vented tumble dryers need to be positioned by a window, door or external wall to dispose of the damp air, so you will need to either have an external vent fitted in the wall or hang the hose out of the window. They often only offer a small load capacity.
Condenser – Condenser tumble dryers don't require an externally-vented hose, so you'll enjoy the freedom of installing them wherever you want, provided the room is well-ventilated. The water removed from your clothes is collected in a container underneath the machine, and needs to be regularly emptied. On some models, excess water is pumped out using the washing machine plumbing where suitable.
Heat Pump – Heat pump tumble dryers use special technology to dry clothes with greater energy efficiency, so you'll save on your electric bills. Heat pump technology also dries your clothes with greater care, so they stay looking their best for longer. Most heat pump tumble dryers are A+ energy and above. Although often the most expensive to buy, they can more than half energy bills based on a previous C rated dryer.
Compact – Ideal for small homes where the tumble dryer needs to be in a tight space, on a worktop or even wall mounted. Generally they have a small load capacity and need to be vented.
Energy efficiency
All machines receive a grading from A – G with A+++ being the most economical. And while the latest sensor models are considerably better than traditional machines, running costs often depend on how much time the machine is drying for and how hard it has to work. A higher spin on your washing machine, for instance, will mean less work for your tumble dryer. Loosening laundry after the wash before you put it in the tumble dryer is another way to prevent lengthy drying times.
You can also keep costs down by not overloading the machine, by drying similar fabrics together or, using a timer delay so you can use your machine overnight if you have a cheaper electricity tariff. Heat pump tumble dryers offer the best energy efficiency.
Now that you've selected the type of tumble dryer you want, let's have a look at what some of the popular settings mean.
Popular Tumble Dryer Settings: 
Sensor Dry – Sensor Dry technology means that a sensor in the drum is use to detect the moisture in the items and finish the cycle as soon as the clothes are dry irrelevant of what cycle you have put them on. Saving you energy and protecting your clothes.
Extra Dry –The extra dry setting means a longer cycle time, to ensure bulkier items are completely dry. This setting is perfect for drying items like bedding and towels.
Cupboard Dry– This setting ensures your laundry is dry enough to be put away immediately, once the cycle is complete. It's worth noting that manufacturers may have different definitions as what constitutes cupboard dry, so check the model specifications before you buy.
Hanger Dry– The hanger dry setting is ideal for items like sweatshirts, which don't require ironing. Any light creases will drop out while the item is hung up.
Iron Dry – With the iron dry setting, laundry is left slightly damp to make light work of ironing your garments, ideal for shirts. The downside is that you'll need to iron the clothes straight away for maximum effectiveness.
As with all appliances, they need maintaining to get the best results. Read our Tumble Dryer Maintenance Guide for the best ways to keep your tumble dryer working effectively time after time.
For more Montpellier Recommendations, head to Twitter and search for the hashtag #MontpellierRecommends.
*These are only recommendations and not official guidance. Please refer to the manufacturers manual for your specific make and model to use correctly and safely. We are not held responsible for damage caused. Refer to your manual.